SAMATVA
SOCIETY BY THE STUDENTS, FOR THE STUDENTS AND DEDICATED TO THE TALENT OF THE STUDENTS
"Education is the foundation of Human mind and Personality is the stairs of Mankind."

SAMATVA, a society which is the initiative of Student Affairs Committee (SAC), is responsible for personality development and growth of the upcoming budding managers. The society aims at organizing the academic events such as quiz, Guest Lectures, Seminars, Conferences, business games etc.
The society not only helps the students to discover, develop and promote their talents by providing them the opportunity to plan and organize various academic events but also sensitize the students about their social responsibilities. The society comprises of students coordinators who work in consultation and under the guidance of Faculty Mentor.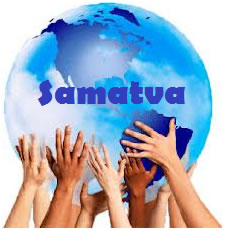 "WHAT SAMATVA REPRESENTS"
"SAMATVA" is a state of being unified. Unity of Thought, Unity of Feeling, Unity of Aim, Unity of Everything.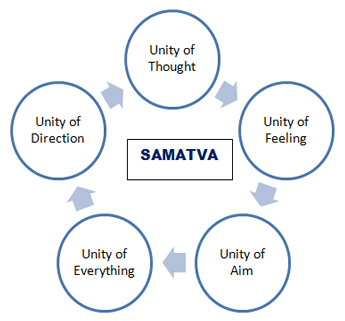 VISION

SAMATVA representing the vision of oneness. The evenness of mind, evenness of action, evenness of striving and of letting go.

MISSION

It wants to create an unparallel forum for the student to test their intellectual and artistic powers, simultaneously opening a venue for sharing mutual experience, skill, talent, in the domain of their interest.

OBJECTIVE

The main focus of the society is to provide the platform where the elated minds can unleash their creativity, Knowledge and competencies and synchronize into fun and frolic experiences which come up every year.
FUNCTIONING OF SOCIETY"
Society is divided into four clubs representing the five domains of management Human Resource Management, Marketing , Finance , Information Technology& Operations Management. These clubs provide the platform to the young budding managers where they can unleash their creativity, Knowledge and competencies and think beyond the classroom learning. The clubs are responsible to conduct events in every functional area of management such as Guest Lectures, Role Plays, Debates, Quizzes , Business games, Data Analytics Workshop etc .These events becomes a source of learning for the students as they can complement their classroom learning and can professionally grow as per the requirements of the Industry.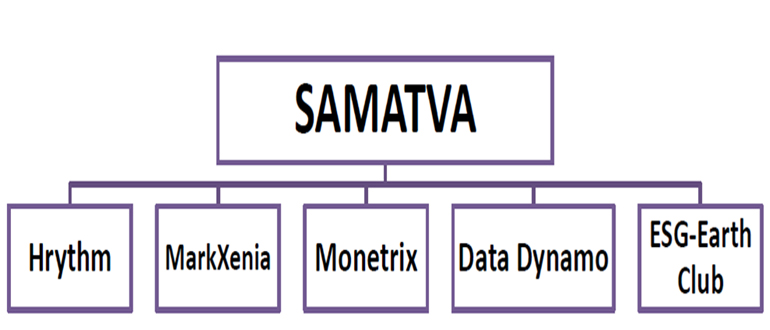 The clubs will work under the model By The Students, For The Students And Dedicated To The Talent Of The Students as this notion brings a sense of responsibility among the students. Two faculty mentor and 10 student coordinators will be allotted to each club.

It would be the responsibility of the club admin and club co-head to plan and conduct at least two activities in an academic year. Apart from conducting the events on regular basis each club will be responsible to update the notice board with the latest information and news articles in their domain in each semester.

Student Club Structure
.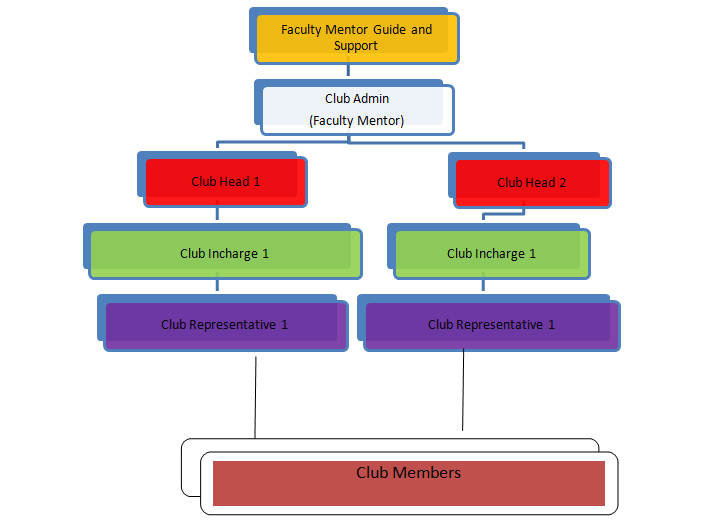 Responsibilities of Club-Head

To plan new initiatives under the Club

To coordinate with the Faculty Mentor (Club Admin.) and attend all meetings related to Club

To prepare schedule of various activities under the Club

To activate Club members for Club activities

Responsibilities of Club Incharge>

To coordinate with Club –Heads in various activities related to Club

To maintain communication clarity with Club Representatives

To maintain list of all Club related decisions and directives as instructed or discussed in the meetings organized by the Faculty Mentor (Club Admin.)

Responsibilities of Club Representative>

To coordinate with all the Speakers and Participants during Club events and activities

To attend all the meetings organized by the Faculty Mentor (Club Admin.) and Club- Heads

To contribute towards the promotion of every club activity within and outside the campus

Responsibilities of Club Members

To be presented and accessible during events or activities in various roles.

Represent the college at various competitions within and outside the campus.
HRYTHM
Introduction
The HR Club HRYTHM at AKGIM Ghaziabad is a platform for bringing together the students interested in the field of Human Resource Management. This club will be conducting various activities which would help the students in showcasing their talent and develop good inter-personal and team-building skills needed in the corporate world. The club is designed to encourage the active participation of the students so that mainly the students would take a lead in arranging and conducting the events. The club will organize activities on a regular basis for grooming and shaping the overall personality of the students. This will also enable the students to plan, decide and arrange for the events successfully and simultaneously learn and implement HR concepts practically.
Objectives-
HR Club at AKGIM will serve the following purpose-
1) To provide students an in-depth knowledge of Human Resource Management and also experience the recent trends and practices in the field of HR.
2) Promoting professional development through involvement and interaction with team members.
3) To learn new ideas and models in HR and implement them successfully in various situations.
4) Enable the growth from being a student to competent management professionals.
HRYTHM: Club Structure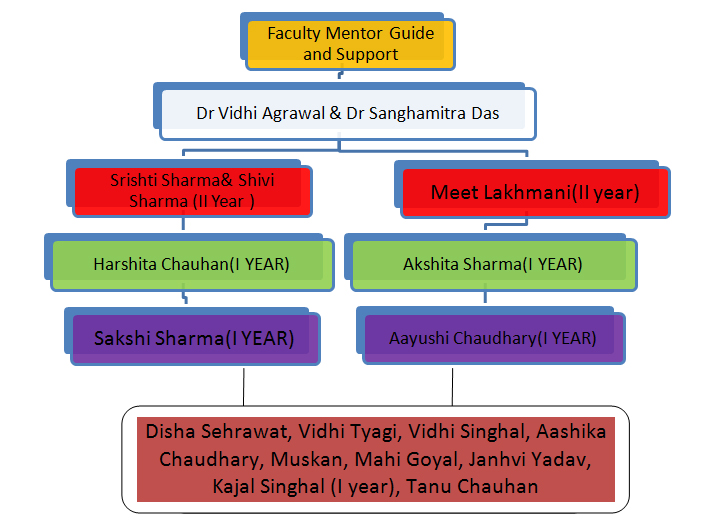 HRYTHM Events
The HR club shall conduct events on regular basis to provide an efficient platform to students to gain insights and be updated about the latest happenings in the field of HR. The set of activities, which will be organized to motivate and develop relevant knowledge and skills of the students to become successful HR professionals in the corporate world, are as follows-
1) Role Plays
2) Debate Competition
3) Extempore
4) Any other event as found relevant
Faculty Mentor
Dr. Vidhi Agrawal , Dr. Sanghamitra Das
MARKXENIA
Introduction
At AKGIM the regular academic sessions on the marketing are delivered so interactively that every marketing student get fair idea about the concepts and framework of marketing but the subject being such a dynamic discipline that it keeps on revising and updating almost on regular basis. With an aim to hook up students with recent marketing ideas, thoughts, and practices the marketing club named MarkXenia is formed. It is a platform where students can exhibit their potential and skills.
Objectives-
1) Marketing club aims to spread awareness about the latest information on marketing related happenings as well as to conduct presentations related to various contemporary marketing issues and topics.
2) Marketing club strives to create prospects for club members to learn by doing by involving them in its various activities and events.
MARKXENIA: Club Structure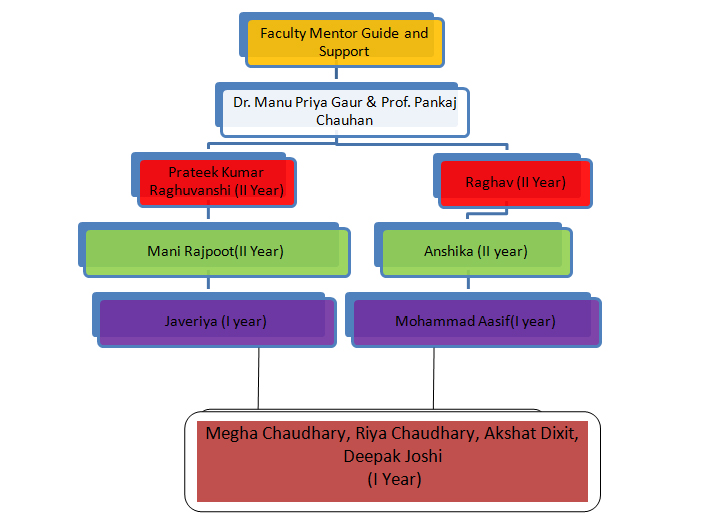 MARKXENIA Events
For the realization of its objectives, marketing club shall conduct following activities:
1) Ad Mad ShoW
2) Brandlogy
3) Marketing Quiz (Logos, Brands, Positioning, Tag Line)
4) Any other event as found important for students
Faculty Mentor
Prof. Pankaj Chauhan, Dr. Manu Priya Gaur
MONETRIX
Introduction
The finance club MONETRIX at AKGIM is a student driven club that collaborates with both the corporate and academia from the financial sector to expose the students with the concept, tools and techniques applicable in improving their quantitative and analytical skills. The club will help the students in understanding the process of investment in different areas through various activities such as debates, quiz, virtual trading and discussion on budget and their impact on economy.
Objectives
Finance Club at AKGIM will serve the following purpose
1) To enhance interest in Finance among students by giving practical Knowledge along with theoretical concepts.
2) To provide ample understanding of the finance industry and their requirements
3) To guide students in search of career in Finance by conducting mock interviews, and Workshops.
4) To assist members with their interpersonal, analytical and financial skills.
MONETRIX: Club Structure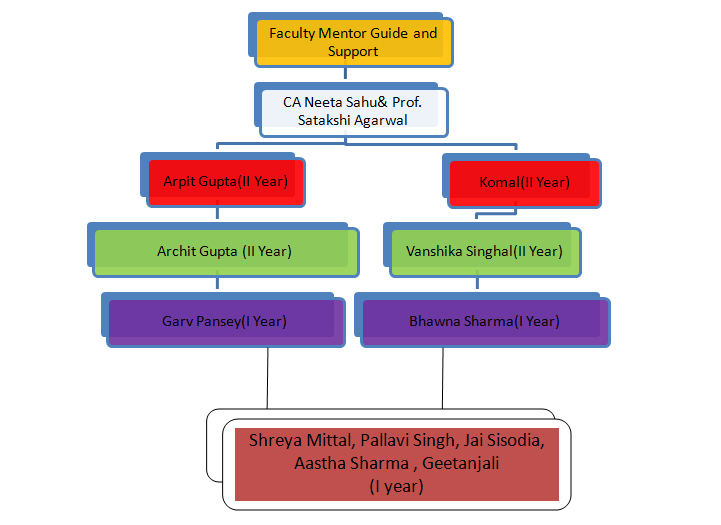 MONETRIX Events
The Finance club shall conduct events on regular basis to provide an efficient platform to students to gain insights and be updated about the latest happenings in the field of Finance.
1) Quiz
2) Virtual Trading
3) Debates
4) Workshop
5) Any other event as found relevant
Faculty Mentor
CA Neeta Sahu, Prof. Satakshi Agarwal
"DATA DYNAMO"
Introduction
The IT & Operations Club 'Data Dynamo' at AKGIM aims to bridge the gap between theoretical knowledge and practical application in the field of data analytics. Through a variety of workshops, seminars, projects, and competitions, the club seeks to empower students with the skills and experience required to harness the power of data for informed decision-making.
Objectives
Data Dynamo Club at AKGIM will serve the following purpose -
1) Offer hands-on training in data analysis tools such as Python, R,Excel, and data visualization libraries, etc.
2) Organize seminars and talks by industry experts to provide insights into real-world applications of data analytics.
3) Facilitate collaborative projects that allow students to apply their skills to solve complex business problems.
4) Create opportunities for students to connect with professionals and companies in the data analytics domain.
5) Prepare students to participate in national and international data analytics competitions.
Data Dynamo: Club Structure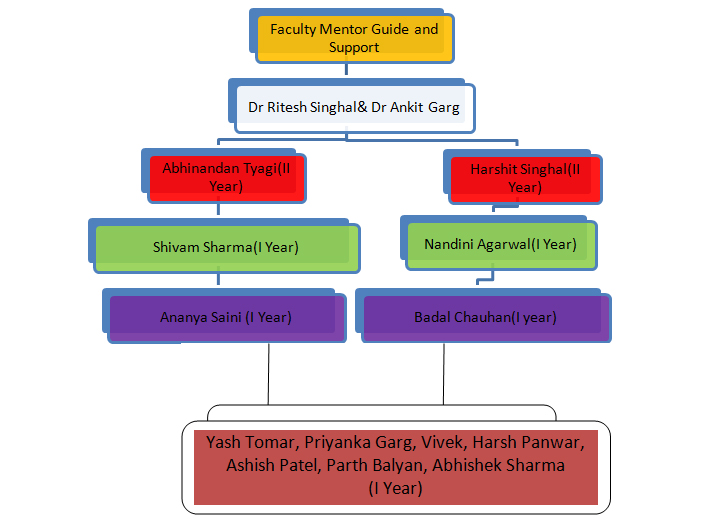 Data Dynamo Events
The Data Dynamo club shall conduct events on regular basis to provide an efficient platform to students to gain insights and be updated about the latest happenings in the field of IT & Operations.
1) Workshops on data preprocessing, statistical analysis, machine learning,and predictive modeling.
2) Organize seminars featuring guest speakers from renowned companies and academia to share their expertise.
3) Host hackathons and case study competitions to encourage practical problem-solving using data.
4) Initiate collaborative projects with industry partners to provide students with real data challenges.
5) Arrange field visits to companies known for their exceptional use of data analytics.
Faculty Mentor
Dr Ankit Garg, Dr Ritesh Singhal
"SAMATVA SPARDHA -AN ANNUAL MANAGEMENT MEET"
Ajay Kumar Garg Institute of Management every year conducts an inter-college event Samatva Spardha. The club functionaries under the banner Markxenia, Hrythm, and Monetrix use to plan various activities. The objective of the activity is to enable ambitious young budding managers to explore their managerial and technical skills and to learn from each other through direct involvement in all the competitions.