Ajay Kumar Garg Institute of Management, Ghaziabad in association with the Ghaziabad Management Association (GMA) organized five days Faculty Development Program on "Building Competitive Advantage through Human Resource Analytics" during October 10 - 14, 2019.
This program was designed to help faculty members/ HR professionals to understand the conceptual underpinnings and importance of HR Analytics and its practical aspects. Along with it, to develop knowledge in various statistical tools & techniques used for HR Analytics, and their applications. This program has equipped participants with hands-on experience on the application of analytical tools to analyze various business situations.
The program was coordinated by Dr. Sarjue Pandita, Dr. Vidhi Agrawal and Prof. Alok Singh and duly supported by Director- AKGIM Dr. Tripurari Pandey and faculty and staff of the AKGIM. The event witnessed a participation of 18 participants from 5 institutes from Delhi- NCR.
The program was inaugurated by the Director- AKGIM, Dr. Tripurari Pandey, Mr. Vinay Gupta, Executive Director GMA and the key speaker and expert Mr. Rakesh Seth. All the guests and participants were welcomed by Director AKGIM
Program witnessed various sessions that covered all the aspects of HR Analytics domain. Day 1 started with Business Process and HR Analytics followed by "HR Optimization through HR Analytics" in Second Session by Speaker of the day and Expert Mr. Rakesh Seth. Mr. Deepak was speaker expert for day 2 in which he made participants familiar with "Statistics and Statistical Modeling for HR Research & HR Decision Making" using R, Tableau and SPSS "HR Scorecard and HR Analytics Models" were covered on day 3 by Mr. Chakit Swaroop. Dr. Krishna Kumar Singh covered "HR Dashboard and HR Predictive Modeling"on Day 4. He demonstrated usage of Cloud application and ORANGE Day 5 focused on "HR Report Visualization" using IBM Cognos. Session was facilitated by Dr. Mukesh Negi.
The program concluded with vote of thanks by Dr. Sarjue Pandita followed by Certificate Distribution on 14th October, 2019 by Director- AKGIM, Dr. Tripurari Pandey. Program received full hearted appreciation from all the participants.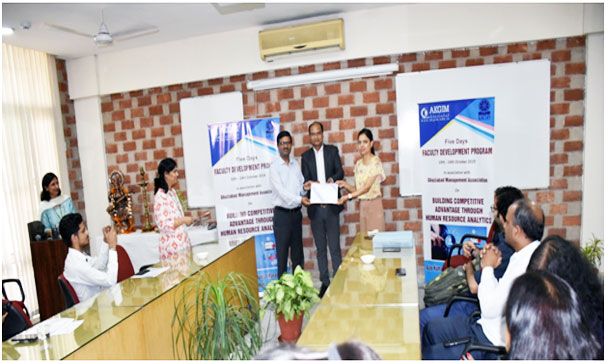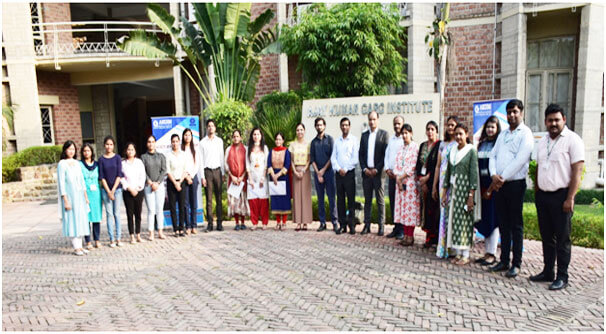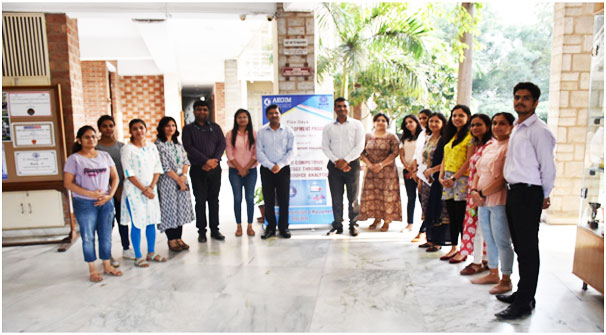 Two-day Faculty Development Program on "Data Analytics and Statistical Interpretation by using SPSS and AMOS" was conducted by Ajay Kumar Garg Institute of Management (AKGIM) in association with Ghaziabad Management Association at AKGIM campus on 20th & 21st Sep 2019. The FDP was attended by the faculty members, research scholars from various Engineering and Management colleges including ITS Institute (Mohan Nagar), Hi-Tech College (Ghaziabad), INMENTEC (Ghaziabad), Amity University (Noida), GLA University (Mathura), AKGEC (Ghaziabad), IMSUC Campus (Ghaziabad).
The program was inaugurated by Dr. T. R. Pandey, Director AKGIM and Mr. Vinay Gupta Executive Director GMA. A brief address was delivered by Mr. Vinay Gupta, Executive Director, GMA. The first session of Day 1 was conducted Prof. Dripto Mukhopadhyay on topic Contemporary & Future of Data Analytics. Followed by second session was conducted by Dr. Ritesh Singhal on Descriptive Statistics and Simple Correlation & Regression Analysis. The day ended with a practical session delivered by Prof. Pankaj Chauhan and Mr. Samarth Sharma in the lab working with SPSS data editor.
Day two of the 2 day FDP was dedicated to hands of experience to the participants by Dr. Bilal Mustafa Khan, Professor in the Department of Business Administration, Aligarh Muslim University on Multivariate Analysis, and Structural Equation Modeling on AMOS. All sessions were supplemented with many practical applications of research tools to give a better understanding to the participants.
The FDP was concluded with valedictory session where Dr. TR Pandey, Director AKGIM distributed certificates to all the participants. All participants valued the understanding and experience they obtained through the exposure of different research tools for data interpretation & analysis. Participants also appreciate the facilitation carried by AKGIM.
A two-day Faculty Development Programme on "Making Management Education Effective through Case Study Methodology"was organized by Ajay Kumar Garg Institute of Management, Ghaziabad on February 17 & 18, 2017. The entire programme was designed to introduce new educational teaching concepts, provoking attitudinal change in management education, provide practice in solving classroom problems, and stimulate the desire to acquire new skills. Through the combination of practical exercises, discussion and theory, the programme provided an exhaustive, enriching and engrossing insight into the dynamics of the case method, suggesting the tools and techniques for managing the process in the classroom, considering the needs of target students.
The FDP started with inauguration by Dr. T. R. Pandey, Director, AKGIM. The first session of Day 1 started by introducing the participants to some of the common types of teaching methods in business schools, the Case Study Method of education, the typology and benefits of case method alongwith an insight to the case teaching method followed by Harvard Business School. The session was conducted by Prof.Namita N Kumar. The second session of the day was conducted by Dr.Rajeev Sirohi, who emphasized on the effective management of the classroom process with the help of case study exercise. The third and fourth session was conducted by Mr. Kaushik Bhaduri, Founder & CEO, of M/s Protagonist Business Consulting (P) Ltd. who covered up an extensive case study on Financial Accounting and Balance Sheet.
Dr. S.S.Tripathi, faculty in the area of Strategic Management at Management Development Institute, Gurgaon, briefed the participants in the manner in which cases can be taught in the classroom in the first session of Day 2. To demonstrate the effective way of taking up case teaching, he conducted a live case teaching demonstration in the area of strategic management. The second session of the day was taken up by Prof.Suman Sarkar, Consultant and Academic Advisor, O.P.Jindal Univesity. Prof.Sarkar emphasized on the relevance of case teaching method in the Indian management education. His session ended by a case discussion in the area of health management. The third and last session of the day was conducted by Dr.Manupriya Gaur who highlighted the role of narratives, historical and video based cases while teaching in management education. The entire FDP involved case study discussions by including cases from different industry perspective: ranging from financial sector to health to entrepreneurship development.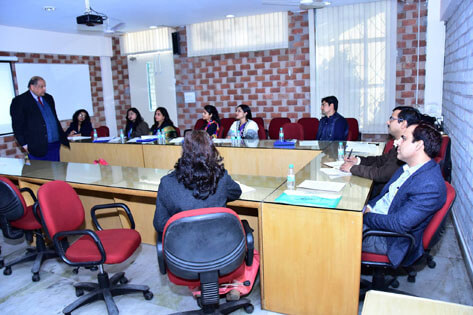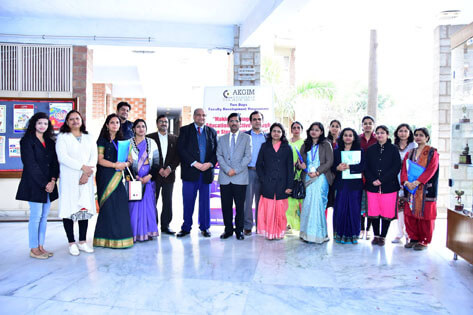 Ajay Kumar Garg Institute of Management organized two-days Faculty Development Programon "Spreadsheet Modeling for Financial Analysis"on 27th – 28th January, 2017.
The program revolved around the significance of using financial models as a key element in major business decisions. It emphasized on how useful Financial Modeling is as a tool that allows business options and risks to be evaluated in a cost-effective manner against a range of assumptions, for identifying optimal solutions in evaluating financial returns & investment and also for understanding the impact of resource constraints to make the most effective business decisions. Management Faculties from various colleges such as ITS Ghaziabad, D.N. College Meerut, Inmantec Ghaziabad and AKGIM participated in the program.
The program was inaugurated by Dr. T R Pandey, Director, AKGIM. The first session of Day 1 was on Excel Basics & Data Analysis using Excel was delivered by Dr. Ritesh Singhal. It was followed by the session on Financial Modeling using Excel by CA. Neeta Sahu. On Day 2, the first session was on Building Corporate Valuation Model by Mr. Jitender Kumar, Fund Manager and Principal Officer at Accuracap Consultancy Services Pvt. Ltd. The day ended with a session on Building Project Finance Model by Dr. Amit Bagga, CA, ICWA & Corporate Consultant. The entire program was based on participant centered learning (PCL) approach and case studies for Financial Modeling.