Student Performance Enhancement & Employability Development Center
Invigorating… Manifold… Customized
SPEED is a distinctive & exhaustively thought out program introduced by AKGIM, Ghaziabad. The aim of SPEED Program is to nurture and sharpen the talent, managerial and decision making skills of select students who shall be cut-above warriors in the corporate. SPEED has been designed along a module to test the initiative, stimulate the creativity and provoke the intellect, energy and enthusiasm of the concerned students. The program focuses on developing a synergistic environment where students have the opportunity to further enhance their competency & capability to work in challenging environment with analytical and managerial skills necessary to achieve their ultimate career goal of exciting placements.
The students for SPEED are selected through a very transparent process of objective test followed by an interview to know their attitude, confidence and career plan.
SPEED STUDENTS
| | | |
| --- | --- | --- |
| S. No. | NAME OF THE STUDENT | BATCH |
| 1. | Anupama | 2019-21 |
| 2. | Pratibha Dhiman | 2019-21 |
| 3. | Deepak Gupta | 2019-21 |
| 4. | Divya Singh Tomer | 2019-21 |
| 5. | Kshitij Bhatnagar | 2019-21 |
| 6. | Radhika Kansal | 2019-21 |
| 7. | Chandrakant Sharma | 2019-21 |
| 8. | Pragati Sharma | 2019-21 |
| 9. | Kunal Padhan | 2019-21 |
Faculty Coordinator- Dr. Neha Verma and Prof. Pankaj Chauhan
CII-Majestic Skill Will Lead

Confederation of Indian Industry (CII) in association with Majestic Auto Limited initiated an inter college engagement program "SKILL WILL LEAD" primarily to address the issue of skill gap and to strengthen the industry-institute interactions. CII-Majestic organized 2nd edition of "SKILL WILL LEAD PROGRAM" from 20th September, 2018 to 25th October, 2018.
On 25th October, 2018 student group presentation competition on the allotted case studies was organized at AKG campus, Ghaziabad. The competition event begins with the welcome address delivered by Dr. TR Pandey, Director AKGIM. An opening remark was delivered by Mr. Mahesh Munjal, Convenor, CII -WUP Industry Academia Skill Panel to open the competition.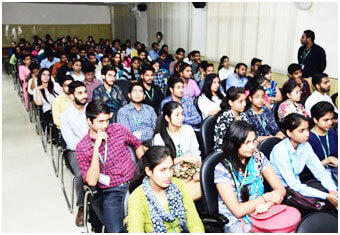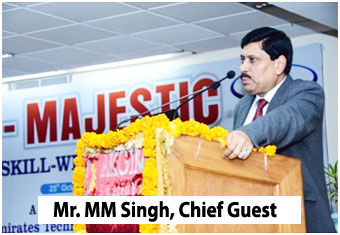 Student teams from Amity University, Sharda University, Institute of Management Studies (IMS) and AKGIM participated. The first presentation of the competition was given by the students of Amity University on the case study about RBL Bank and Vishwavir Ahuja followed by the second group presentation on the case study about Mumbai Dabbawalas delivered by the students of IMS.

Mr. MM Singh, Executive Advisor in Maruti Suzuki India Limited (MSIL) & Director in Maruti Centre for Excellence (MACE) spoke to students attending and participating in the event during his brief address as a Chief Guest.

Subsequent to worthy address by Mr. MM Singh the third group presentation was given by the students from Sharda University on Harshad Mehta Scam. The fourth and last group presentation was delivered by the students of Team-AKGIM on the case study about Patanjali Ayurved Ltd.

Each team was allowed to complete their presentation within 12 minutes. Every team was questioned after presentation on their case study and accordingly rated by the judges. The final results were announced by Mr. Mahesh Munjal and the Judges.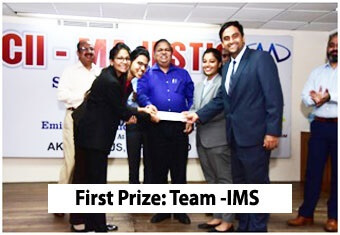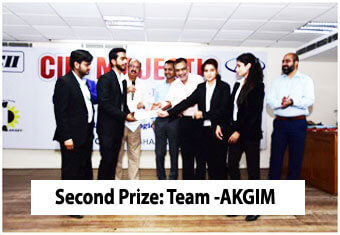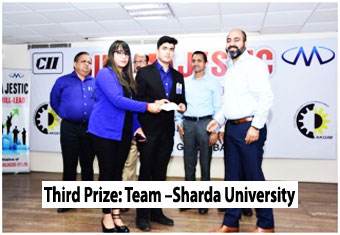 The first prize went to the students of IMS, the second prize won by Team-AKGIM and the students of Sharda University gained third prize. The event culminated with vote of thanks.